The 2022 International Summer Session - Course List
Published:2022-05-11
Beijing Foreign Studies University (BFSU) is a prestigious university in China under the direct leadership of the Chinese Ministry of Education. It is one of China's top universities listed under the Project 985 and Project 211, both comprising top universities in China, and is among the first group of universities in the country to develop first-class disciplines. BFSU is also the first foreign studies university established by the Communist Party of China and it is now teaching 101 foreign languages, with the schools of the European, Asian, and African languages currently being the largest centers for non-general language development in China. BFSU now serves as an important educational base in China for qualified professionals with excellent foreign language competence, who, after graduation, work as diplomats, translators/interpreters, businessmen, journalists, lawyers, bankers, etc. For example, among BFSU alumni who work or have worked in the Ministry of Foreign Affairs, we have over 400 ambassadors and over 1000 counselors. BFSU is thus known as the "Cradle of Diplomats".
Since 2016, BFSU has successfully held International Summer Session (ISS) in every July, with this year to be the 6th time. To ensure the safety of teachers and students under the normal control and prevention of COVID-19, BFSU explores ways for online international teaching, and this year's ISS will be arranged via online measures such as live streaming and recording at Beijing Time (GMT+08:00). The 2022 ISS will be held between July 4 and July 29, with prominent experts from countries including the United Kingdom, the United States, Germany, France, Greece, Netherlands, Serbia, and Canada to teach courses. The disciplines cover multiple areas such as politics, sociology, economics, history, public relations, regional development, communication, art and literature, etc. We welcome Chinese and international students to join our ISS courses.
1.Course Selection Policy
BFSU Students: All BFSU students are allowed to register for 2 courses (4 credits in total) during their program period. Given limited classroom capacity, undergraduates will enjoy priority upon registration.
Non-BFSU Students: The Office of Undergraduate Studies offers official ISS certificate and transcript for all non-BFSU students. Students can bring their transcript of academic record, course syllabus, and the teacher introduction to the Office of Studies of their university for consultation of credit transfer.
Please notice: students can always register for courses and withdraw at anytime before the course registration system closes. Courses with less than 15 students registered will be canceled and the minimum number of registered students for non-English courses can be smaller.
2.Credit Transfer Policy
All ISS course credits fall into the category of the Module of General Education. Credits of the courses will be identified according to the Disciplinary Course Module, and all ISS courses will be identified as "2 credits – 32 credit hours."
3.Course Type and Schedule
To help students better arrange schedules, BFSU provides a very flexible course type schedule and the specific date and time for each course can be found on our official website (iss.bfsu.edu.cn):
Course Type

Course Duration

Session

Date

A1

July 4-15

Session 1 08:00-08:50

Session 2 09:00-09:50

Session 3 10:10-11:00

Session 4 11:10-12:00

Session 5 13:00-13:50

Session 6 14:00-14:50

Session 7 15:10-16:00

Session 8 16:10-17:00

Session 9 17:20-18:10

Session 10 18:20-19:10

Session 11 19:30-20:20

Session 12 20:30-21:20

July 4-29

A2

July 18-29

B

July 4-29
4.Course List and Modules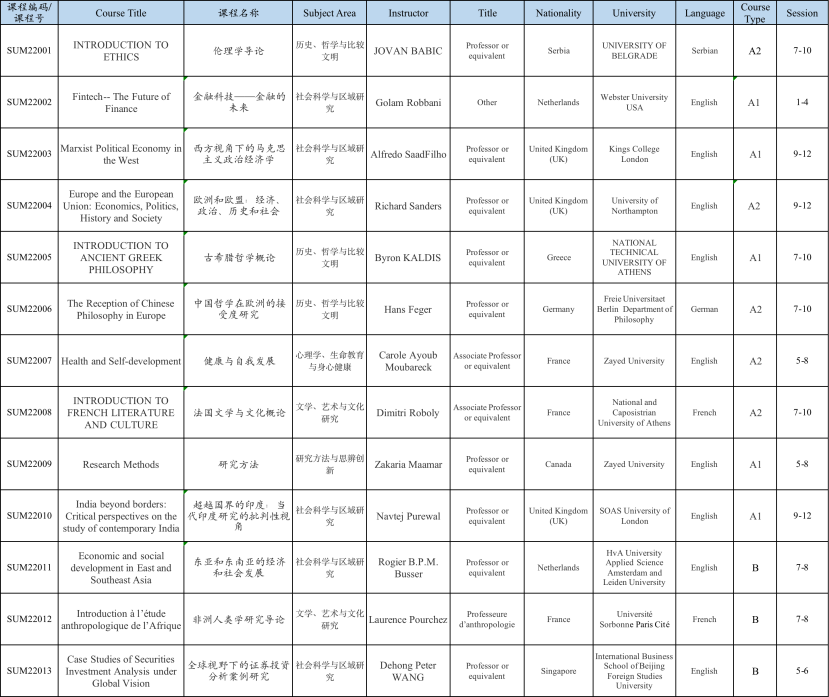 5.Grade and Transcript
Normally, students can access the ISS student system for their course grades in late August and early September. Official transcript for non-BFSU students is as follows: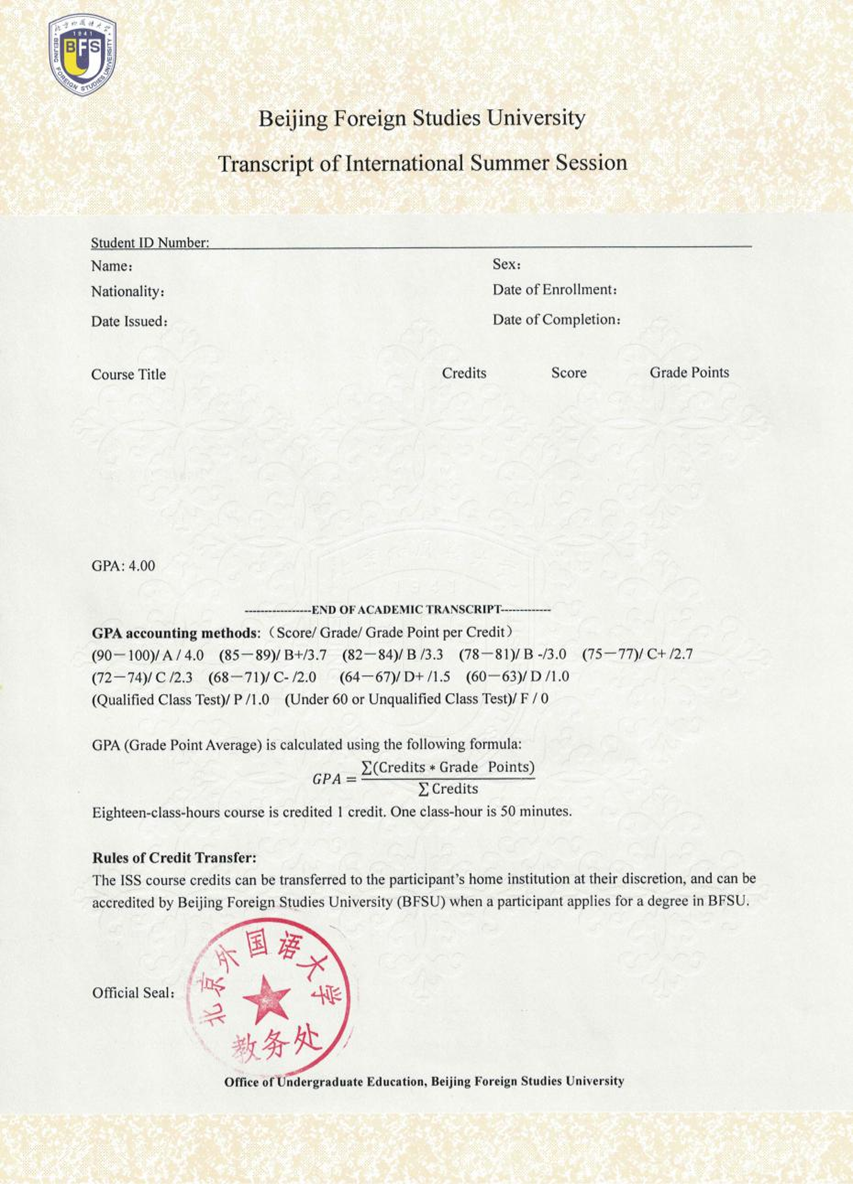 6.Tuition and Fees
1)Registration Fee
¥600 registration fee is required and shall not be double charged if student applies for 2 courses (4 credits). Registration fee is non-refundable.
2)Tuition Fee
We strongly recommend students to pay before 2022/6/6 to enjoy our early-bird discount. All payment should be done before 2022/6/12, when our online payment system is closed.
BFSU Partner Universities or Confucius Institutes Students

Individual Applicant

Early-bird

(before 2022/6/6)

2 credits

¥2,400

¥3,200

4 credits

¥4,800

¥6,400

Tuition

2 credits

¥3,000

¥4,000

4 credits

¥6,000

¥8,000
3)Registration and Tuition Fee Waiver
The BFSU ISS registration and tuition fees are completely waived to the following students:
Currently enrolled BFSU students (maximum course selected is 2 or equally 4 credits);
BFSU Partner Universities or Confucius Institutes can recommend two students (or 8 credits) for free study. Those who are not included in the recommendation list should pay fees according to aforementioned requirements.
4)Refund
| | |
| --- | --- |
| Refund Time | Refund Amount |
| Course canceled | Full refund |
| Before the course starts | 95% refund of tuition fee |
| Before half of the course taught | 50% refund of tuition fee |
| After half of the course taught | No refund |
Any student who wants to drop courses must first apply to the Office of Undergraduate Studies of BFSU. Refund will be received after approval.
Course Registration: May 9-May 29, 2022
Payment Period: May 30- June 12, 2022
ISS Program: July 4-July 29, 2022
Official Website: https://iss.bfsu.edu.cn/
Contact: 86 10 88816443, Email:summerschool@bfsu.edu.cn
2022 BFSU ISS Brochure暑假国际小学期宣传册.pdf
BFSU ISS Application Form for Recommended Students暑假国际小学期合作院校学生推荐表.pdf
Please check out the link of ISS brochure and table of recommendation.
Don't hesitate. Join us!