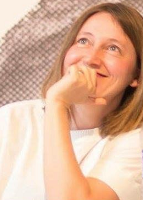 Linda O Keeffe

Title
Professor
Nationality
the UK
Institute
Lancaster University
Expertise in
Sound studies
Other Reference
-
Experience
Linda O Keeffe (BA, MA, HDiP, PhD) has extensive experience in the field of sound studies in both practice and theory.
She is a full time professor at Lancaster University within the Lancaster Institute for the Contemporary Arts.
She has trained in fine art, virtual realities, media and communications and sociology. She is the editor of the Interference Journal, president of the Irish, Sound, Science and Technology organisation, founder of Women in Sound Women on sound.
She has published in the areas of acoustic ecology, sensory studies, media and communications, social research methods, sensory arts and mobilities.
O Keeffe has worked as an international artist since 2003, developing several public art commissions, solo exhibitions and radio art work. She was commissioned in 2016 as sound designer for a theatre production in Manchester, England which will premier in 2017, and to develop a new work for concert in Madrid for January 2017.
She is also on the board of Directors for the Octopus Collective, a UK based IPO. She has taught at university level in the fields of sonic arts, sound design for theatre, social research methods in the arts, and visual and aural documentary making since 2009.