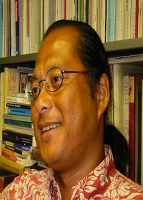 Frederick Lau

Title
Professor
Nationality
USA
Institute
University of Hawaii at Manoa
Expertise in
Arts
Other Reference
-
Experience
Frederick Lau is an active ethnomusicologist, flutist, and conductor whose scholarly interests include a broad range of topics in Chinese, Western, and Asian music and cultures.
He has published widely on traditional Chinese music, music and politics, nationalism, music in cross-cultural context, Chinese music in the diaspora, as well as issues related to 20th & 21st century Western avant-garde music.
He is author of Music in China (Oxford 2008) and co-editor of Making Waves: Traveling Musics in Asia and the Pacific (Uiversity of Hawaii Press, in-press), Vocal Music and Cultural Identity in Contemporary Music: Unlimited Voices in East Asia and the West (Routledge 2012), Locating East Asia in Western Art Music (Wesleyan 2004).
His articles have been published in various scholarly journals. Lau is the president of the Society for Asian Music and editor of the book series entitled Music and Performing Arts of Asia and the Pacific, University of Hawaii Press. He is the former president of ICTM's Music of East Asia Study Group and the Association for Chinese Music Research. Currently, he is the chair and professor of Ethnomusicology and director of the Center for Chinese Studies at the University of Hawaiʻi at Mānoa.