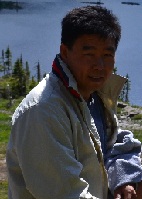 Lasheng Yuan

Title
Professor
Nationality
Canada
Institute
University of Calgary
Expertise in
Economics
Other Reference
-
Experience
工作及科研经历
加拿大卡尔加里大学,终生教授,博导。
上海財经大学商学院访问教授, 2010
中国对外经济贸易大学访问教授, 2007
哈尔滨工大能源经济系代主任, 2006
北京大学中国经济研究中心伏特基金访问教授, 2003。
加拿大卡尔加里大学 商学院 特聘教授,2003。
加拿大卡尔加里大学, 助理教授,1997-2002。
加拿大卡尔加里大学家族经济管理和企业家化经营研究中心,研究员。(Center for Family Business Management and Entrepreneurship,Research Fellow)。2001—现在。
加拿大Van Horne 基金研究会制度与管制研究中心,特邀研究员。(Van Horne Institute,Center of Regulatory Affairs, Research Associate)。2000—现在。
加拿大卡尔加里大学公共政策研究中心,研究员。1998—现在。
加拿大不列颠哥伦比亚大学,讲师。1996。
加拿大国际发展研究中心(Canada International Development Research Center),授课与咨询。曾前往中国江苏省社会科学院,为长江沿岸十省市社会科学院具有高级职称的人员讲授计量经济学。1994。
加拿大不列颠哥伦比亚大学,助教和助理研究员。1993—1995。
加拿大航空公司国际部(Canadian airlines International),经济分析师,参与如何应付来自加拿大枫叶航空公司(Air Canada)的竞争的个案研究。1993。
加拿大西蒙佛来斯大学,助教和助理研究员。1991--1992。
北京高新技术实验区管理委员会,高新技术实验区社会经济发展规划,项目负责人。1989—1991。
部分国际权威刊物上发表的研究成果(Selected Published Papers in Refereed Journals)
"Highway Sub-franchising and Toll Competition" (高速公路分段管理和收费竞争,) Journal of Transport Economics and Policy, 49.1, 115-132, 2015.
"Optimal Privatization of Vertical Public Utilities,"(关于公用事业资产最优重组) Canadian Journal of Economics, 2010, Vol. 43, No. 3, 816-813.
"The Loss from Trade with Cost Asymmetry" (技术不对称性,竞争和国际贸易的得失), Review of International Economics, with Baomin Dong, 2010, Vol.18.
Yuan, L., "The Widespread Failure of Production Unitization in US Oil Fields: A Strategic Explanation," (关于美国陆上油田集中和分散管理的战略分析) Energy Studies Review , 2004, Vol. 13, No. 1: 1-24.
Yuan, L., and Aidan Hollis, "Competition Policy in Open Economies,"(关于开放经济中的竟争政策)International Economic Journal, 18(2): 179-194.
"Risk Selection, Matching, and Welfare Effects under Performance-Based-Contract in Mental Care," (关于加拿大现行医疗制度改革的理论分析和评估)with Mingshan Lu and Albert Ma. Health Economics,Vol 12, Issue 5, 2003.
"Strategic Incentives of Divestiture of Competing Conglomerates," (关于大集团公司应付外部竞争的组织结构调整策略研究)with Guofu Tan. International Journal of Industrial Economics,21(2003) p.673-697。
"Divide and Conquer: Strategic Leasing in a Common Oil Pool."(关于在特定情况下油田资产的处置策略) (2002) Canadian Journal of Economics, Vol. 35, No. 1, p36-51.
"Product Differentiation, Strategic Divisionalization and the Persistence of Monopoly."(关于产品多样化和专业化经营与垄断的持续性关系) (1999) Journal of Economics and Management Strategies, 4(8), p581-602.